CPG warehousing and distribution done right
In the fast-moving world of consumer packaged goods (CPG), cost, quality and market growth all matter. You need to maintain margins while growing SKUs. You need your 3PL to manage inventory and shipments with increasingly short lead times, even same day.
Since our start in 1977, we have specialized in serving the operationally advanced market segments of food and consumer products. We offer dedicated (contract) and shared CPG warehousing solutions and no matter your space requirements, our services are customized to your specifications.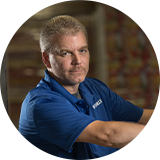 Join our premier customer base and experience our proven quality processes and worldclass warehousing services.
Contact
Service Features
Our skilled warehouse associates regularly achieve 100 percent order fill rates.
Comply with all major safety and quality processes, including ISO 9001:2015 quality certification as well as the food safety and security requirements of the Food Safety & Modernization Act (FSMA) and FDA, among others.
Services outside of traditional warehousing and fulfillment include e-commerce order fulfillment; value-added services, such as kitting, contract packaging solutions; and transportation services.
Seasoned IT staff with expertise in application programming and implementation, plus services such as EDI mapping to seamlessly connect systems, including with our tier-1 WMS WAREPAK/400™.
Food-Grade Warehousing
Our food facilities are audited by third-party auditor AIB International for safety and quality compliance measures, and we regularly achieve superior ratings.
We are USDA Organic Certified, following USDA-approved practices for handling, storing and transporting organic goods within a separate space, away from non-organic foods.
We offer air conditioned and temperature-controlled warehousing.